Post by Rachel Summer Edwards on Mar 23, 2008 11:16:04 GMT -5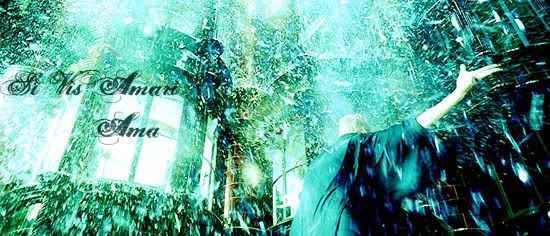 Si Vis Amari, Ama




if you want to be loved, love
[/center]
home
||
plot
||
canons
||
advertise
+ Totally new, started March 18th
+ Lots of canons still open
+ Friendly staff and members
+ Cool skin
+ Original plot
What if...?
We all ask ourselves that question some times. Now imagine what had happened if Lily and James Potter had never died. Harry Potter would have been an ordinary boy, his parents still alive, his godfather never sent to jail, perhaps he would even have had siblings. No fame, no scar that woke him up at night because of the pain. This would al have happened to another boy.
In 1979 Lord Voldemort, at the top of his powers, heard of a prophecy from the mouth of the granddaughter of a famous Seer.
"The one with the power to vanquish the Dark Lord approaches... Born to those who have thrice defied him, born as the seventh month dies... and the Dark Lord will mark him as his equal, but he will have power the Dark Lord knows not... and either must die at the hand of the other for neither can live while the other survives."
There were two possible enemies to his power and Voldemort chose the Pureblood one.
In 1981 it was Alice Longbottom who stood in front of her son's bed, shielding him from the malevolent wizard, Alice Longbottom who sacrificed her life for that of her son. Neville Longbottom was not killed, but the spell shot back at Voldemort, banishing him. While the world rejoiced, Neville Longbottom was brought to his grandmother.
Severus Snape never turned to Dumbledore to save the woman he loved and became the key person in the search of the Dark Lord. Peter Pettigrew never betrayed his friends and never served the Dark Lord. James and Lily Potter never died and had another child, two years after Harry's birth. Sirius Black was never arrested for the alleged murder on Peter Pettigrew and was never sent to Azkaban.
But Neville Longbottom lost his parents. So ten years later it was another boy who saw Quirinus Quirrel die, who dealt with the Basilisk and the Goblet of Fire.
But Voldemort is still at large, even now, in 2023. Neville Longbottom, the Chosen One, never succeeded in killing the Dark Lord for good. In that battle some the hard losses fell, Albus Dumbledore was one of them, the Headmaster of Hogwarts and Head of the Order of the Phoenix. Even now, the Wizarding World is still at war. Hogwarts was taken over by Death Eaters and they treat students according to their thoughts, Sorting and teaching them according to Blood Status.
The Pureblood children of those who support the Dark Lord go into Slytherin, where they live in luxury and are taught the most. The other Purebloods go to Ravenclaw, where the accomodation is not as good, but still managable, and at least they get to do their N.E.W.T.s. But for the Halfbloods, Blood Traitors and Mudbloods life isn't as good. They live in the old commonrooms of Hufflepuff and Gryffindor, and only a few Blood Traitors have the chance to work themselves up to the Ravenclaw commonroom, in exchange for a plea of loyalty to the Dark Lord.
Surprised to find Mudbloods are still allowed to go to Hogwarts? Indeed, but the Dark Lord wasn't stupid, he knew that if he would keep them out, they would form a threat to his reign one day, so they are forced to go to Hogwarts, where they are treated like cheap workers, not even allowed to take most subjects and their O.W.L.s. No wonder of course there are students rebelling against the Death Eaters' regime.
Outside of Hogwarts, the Order still remains, most of it's members in hiding. With Neville Longbottom at the head of the Order, they are hoping first of all to free Hogwarts, and from there battle Voldemort and his Death Eaters, training students, no matter their blood. A noble cause of course, but will they succeed?
You'll find out if you join us at
Si vis amari!
[/blockquote]