Post by Sapphire Cordel on Apr 1, 2008 11:39:35 GMT -5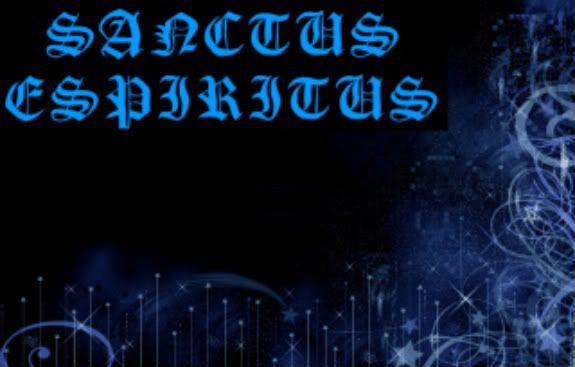 Site Name:
SANCTUS ESPIRITUS
Site Plot:
Even the SWEETEST
[/b][/color] things in
LIFE
[/u][/color] can be the most
SINFUL.
[/b][/color][/size][/center]
Has Darkness Taken Over Me, Consumed My Mortal Soul? All My Virtues Sacrificed.
[/size][/color]
The Birth of Fourteen Teenagers will decide the Fate of the Never-Ending War. Spread around the very existing World, unknown to them of their True Powers. Seven born of Vice whilst Seven born of Virtue.
[/b]
Blinded To See, The Cruelty Of The Beast. It Is The Darker Side Of Me. Forgive Me My Sins
[/size]
The World is settling in for a Battle. A Struggle between the Darkness and the Light. One Boy, who had survived the attack of this Darkness must face up to his Destiny. For neither can Live while the other Survives. The common battle of Power has only just begun.
[/b]
I'm Hoping, I'm Praying. I Won't Get Lost Between Both Worlds. For All I Have Seen.
[/right][/size]
Fourteen Teenagers will come together and meet each other. Together it will be their choice on which side to join. Some will turn to the Darkness while others embrace the Light. This War will be the one that will cast an Enchantment across the Entire World. A Battle to the Death and Destruction of the Civil World.
How Can Blood Be Our Salvation And Justify The Pain That We Have Caused.
[/right][/size]
Who will survive the outcome of the Battle of Power. Will the Scared Guardians of Virtues and Vices be able to protect those they Love the Most? In a World full of Discord and Lies, only those that stay Loyal to their Cause will be victorious.
[/b]
The Veil Of My Dreams. Deceived All I Have Seen. Forgive Me For What I Have Been.
[/right][/size]
Musical Lyrics Provided By: Within Temptation ~ The Truth Beneath The Rose
[/color][/b]
Site Link:
heavenlysinful.proboards83.com/index.cgi
Site Button:

Site Button Code:
<a href="http://heavenlysinful.proboards83.com/index.cgi"><img src="http://i201.photobucket.com/albums/aa198/LostinShadows7/SanctusEspiritus.jpg" border="0" alt="Sanctus Espiritus"/></a>