Post by Leah Simmons on Mar 23, 2008 15:48:55 GMT -5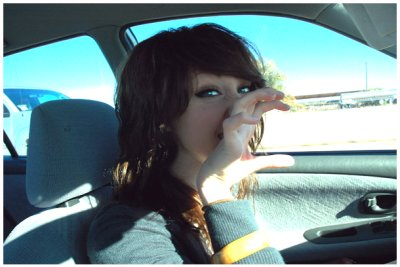 LEAH SIMMONS
"I was gonna clean my room, but then I got high."
Basics
Name: Daleah Lynn Simmons
Nick Name: Leah -- note: she's extremely stubborn and won't answer to anything else but Leah.
Age: Seventeen
Gender: Femme Fatal
Birth Date: July 8th 1990
Hair Color: Dark auburn
Eye Color: Light blue
Weight: 104 lbs.
Height: 5'5"
Ethnicity: Caucasion
Sexuality: Heterosexual
Marital Status: Single
Education: Currently completing her junior year
Religion: Christian


Insides
Personality:
l a d y ; ;
The one thing Leah tries to remain through her non-stop urge to have fun is to appear more like a lady than a whore. She finds it offensive and utterly absurd when anyone compares her to someone who gives themselves up, freely, and act like her emotions mean no importance to society. Yes, she may have a small reputation of flirting and sleeping with most men that she has dated, which is quite a few, but that doesn't mean Leah goes out searching for a new boyfriend every time she ends her most recent relationship, most of the time. She completely despises all men who think it's alright to touch her anyway they please or assume she's just another woman they can use and then toss aside when they're finished.
b i t c h ; ;
Leah can be very stern and act like a complete bitch, surprisingly. You don't want to see this side of her, ever. Committing simple actions to annoy her would not be a very genius idea. If you're the target of her enraged attitude, you're in big trouble. She will stop at nothing to make your life a complete misery and ruin your reputation. Now, if you're not her target, it would be wise to keep it that way and mind your own business when Leah is in a terrible mood.
f u n ; ;
Even though Leah has a very unpleasant side, she also has a very pleasant side, which isn't much of a surprise. She can be quite the comedian whenever she's in a good mood and she absolutely adores to make people smile and laugh. She loves to smile and have a good laugh every once in awhile, herself. When she's in one of her jovial moods, Leah will be up and willing to do anything you would like her to do, as long as it's not something revolting. She will do anything to assist someone in need of help and will attempt to make even the more depressed individuals smile.
p a r t i e r ; ;
Leah can be so sweet, kind and helpful that it's impossible to imagine how much the young woman enjoys partying and clubbing. She's usually the life of parties and seems to not know her boundaries. Although, she does know them but she chooses not to abide by them. Also, Leah is very impulsive and spontaneous, she never really thinks out an action before she does it and it tends to get her into rather big trouble.
i m p a t i e n t ; ;
Unfortunately, Leah cannot sit still for a long period of time and despises boredom with a passion. The only way to get rid of boredom is to find excitement so that's exactly what she does, she seeks out excitement. Which means taking risks, breaking rules, etc. all in the name of having fun. So Leah is up for anything really, only if it involves taking risks.
t r e e h u g g e r ; ;
Most people have some sort of soft spot for a certain thing, whether it be baby animals, attractive people, or corny romances. But Leah is completely devoted to nature and its' inhabitants - mainly animals. This is how she has gotten her "tree-hugger" reputation. And to make it worse, she appears to be in her own little world all of the time, but that's only because she's either taking everything in and thinking intentively or she's just high. But it's not all show; Leah has actually stood up for nature a few times in her nineteen years. She once went on a hunger strike when she was a small child because her mother attempted to force her to eat chicken, and we all know that Leah's a strict vegetarian.
Likes:
++Adrenaline
++Amusement parks
++Marijuana
++Taking risks
++Flirting
++Guys
++Relaxing
++Getting what she wants
++Cigarettes
++Challenges
++Men who know how to treat women
++Sex
++Stupid comedy movies
++Any type of music
++Drawing
++Baby animals
++Parties
++Dancing
++Alcohol
++Nature
++Late night strolls along the beach
++Swimming
Dislikes:
--Being called anything besides Leah
--Men who don't know how to treat women
--Boredom
--Being told what to do
--Rejection
--Food
--Animal crulty
--Gory movies
--Abuse
--Being controlled
--Individuals who don't know how to have fun
--Ignorance
--School
--Terrible hygiene
--Rude individuals
--Monday mornings
--Freezing weather
--Humid weather
--Annoying individuals
Hobbies:
~Smokng hydro
~Partying
~Drawing
Fears:
~Dying young
~Gaining weight
~Being alone


Outsides
Distinguishing Marks:
Considering the young woman is into drugs and smoking, she has a few burn marks on her fingers, all thanks to her clumsiness. There's nothing really too severe marked on her body other than the few burns and the odd small scar that she recieved when she would constantly fall as a toddler.
Self Perception:
Being a vegetarian and having the small eating disorder, Leah is quite thin; almost sickly thin, which isn't something she wants. Sure, she could go ahead and stuff her face, but the nineteen year old is too scared that'l eventually gain to much weight. And she had to go through quite a bit of struggling to get her body where it is now, so she's not about to sabotage her own appearance over a little weight difference.

Ever wonder why Ms. Simmons spends so much of her time outside, besides to get high? Well, she's wuite the little artist when it comes to sketching out her surroundings. She prefers to keep her artistic abilities private, but if someone happens to compliment one of her sketches, Leah's more than happy to show them the rest of her collection. She's not one to brag about anything, really, but she does take pride in her drawings and spends quite a bit of time and detail on all of them
Appearance:
Well, Leah isn't the biggest woman ever in the world, considering she only weighs about 104bs; she does have quiet a slender bodice, from exercising regularly, and not eating as much as she should be. Her stomach is thin and delicate, with a light outline of a 6-pack shining through the skin. Starting with Leah's head she has quite delicate features, slender cheek bones, and lightly curved lips which pout when she is trying to pull some man or trying to get her own way. Her shoulders are quite narrow, thanks to her petite figure.

Her bodice is quite slender and slightly curvy, which makes it something people like to focus on, mainly the men folk. Her legs are quite petite and lightly tanned, as is the rest of her bodice, thanks to her love for the outdoors. Like her legs, Leah's arms are small and a bit bony, considering she has a bit of an eating disorder and it's, slowly, starting to show.

Although, Leah wasn't always this slim and agile, not at all. When she was attending elementary school, she was quite chubby and not very weight conscience, either. The best feature on her face, which has developed over the years, is her beautiful smile, she has two great rows of pearly white straight teeth, and it's all thanks to the caring dental work she had done when she was younger, such as those agonizing braces she had to live with for two years. Over the years, Leah grew a bit tall, she grew from 5'1'' to 5'5'' in the space of two years. Of course, that was because she ate all her vegetables even the rather disgusting sort, when she was a child. But, now, she will hardly eat anything.

Her delicate smile and bright blue, angelic eyes are the key to getting whatever she wants, that she knows she can get. But, of course, this never took Leah's cold-hearted attitude away when her wants and needs were denied by her parents. She has slightly wavy, dark auburn hair which cascades down along her shoulders and ends an inch below her shoulder blades.

Leah will wear any type of clothing along the circumstances that she approves of her appearance. It could be anything from a simple t-shirt, jeans and sneakers or a neatly pressed dress with a pair of heels, it wouldn't matter. Although, her wardrobe mainl consists of clothing that she finds comfortable, which is really all that she'll wear. The good thing is, Leah can get away with wearing any type of clothing thanks to her slim built figure.


Past
Family:
MOTHER -- Anna Monique Vaux-Simmons;; forty-two;; house-wife/stay at home mom
FATHER -- Nicholas Dean Simmons;; forty-five;; successful lawyer
SIBLING(S) -- Parker Liam Simmons;; nineteen;; senior high school student
PET(S) -- She's thinking of getting a puppy, but she doesn't have any pets for the time being
OTHER -- N/A
History:
In the year of 1989, Nicholas Simmons, a young but already prosperous business man was sent to a job in the middle of France, which was precisely where he met the woman who would be his future wife. A gorgeous blonde, she was European through and through. From her rich family history to her golden blonde locks, she exuded confidence, which was what initially drew the New Yorker to her. Of course it hadn't happened like the two had expected. It was one night of expensive French wine and a shared hotel room, and both of their lives would change drastically from there on out. The day Nicholas was set to leave, his ticket booked and his bag packed, Anna Vaux, the same female he'd seen for one vivid night his first night in France, stood at the door of his hotel room. Considering he was fluent in French, it wasn't difficult for her to get the point across-she was pregnant. One night of unprotected sex and the first child of Nicholas and the soon to be Anna Simmons was conceived. Of course she demanded the two get married or he would have to pay for the child's expenses. The man mulled it momentarily before deciding that he'd take her back to the states with him. His mother was pressing him to get married, no telling how intolerant her parents would be. Only a few months later, the two were married in a lavish wedding in Manhattan-wowing others with their romantic story of how they'd met in France and fallen instantly in love-deceiving those around them from the start.

First child- After an uneventful nine month pregnancy, in which Anna spent wallowing in their lavish Upper East Side penthouse, working day after day with her English Instructor, the couple's first child, and only son, was to be born. In the months drawing up to the pregnancy, Anna had spent an increasing amount of time studying various religions and researching where she stood in life and how she felt about certain things. Therefore, when she stumbled upon the religion of Scientology, she was instantly drawn to it. It seemed to depict her life too-perfectly and soon she was slaving over everything she had to do in order to achieve a cleaner, inner body experience. By the time she'd researched just enough about a Scientology birth to go through with it, the nine months was drawing to a close. In the religion of Scientology, they believed in what's called a "silent birth," in which is basically self-explanatory. Their beliefs follow the tradition that if a child is born into a completely silent and calm world, they will grow to be more well rounded and well adjusted members of society. But by the time she was laying on her back in the delivery room, biting down as hard as she could on a towel and squeezing the life out of the nurses hand (considering her husband just "couldn't get away from the office,") she could barely contain the pain. If this wasn't enough, the baby had assumed what was called "breech position," and the doctor's were hushed upon talk of a c-section. Forty-five minutes later, the baby finally moved and Parker Liam Simmons was the first-born child to Anna and Nicholas Simmons.

Two years after Parker Simmons was born, Daleah Lynn Simmons popped into the family picture. Considering Nicholas was always working late hours at the office and Anna was off flitting around as a social butterfly. Those around the couple weren't surprised when the girl was the last addition to the family. With the marriage on the rocks, it wasn't all that shocking that a child couldn't really solve all life's problems. Anna became more active in her children's lives after her only daughter was born, but Nicholas pushed himself away even more, working longer hours and coming home less and less.

So how is life in the Simmons family you might ask, well it is a little strange. Even though Leah's father isn't around a lot of the time, she doesn't hate him but she does hold a sort of blame on him for not spending more time with his family. Growing up, Leah was your typical 'daddy's girl', always buttering up to him when she wanted something or when she wasn't getting her own way. Then when Nicholas started drifting farther and farther away from home, the close father and daughter bond was lost. This extremely bothered her when her father wasn't around as much, and it seemed like it didn't bother her brother at all. She was sure that it must have a little, but he would always just say, 'Yeah dad can't help being busy, it's not his fault.' Which tended to annoy Leah somewhat. When she does see her father on the odd occasion, she gets treated like royalty and is lavished with gifts as an apology for not being around that much. Basically to keep Leah happy, so she wouldn't fly into him for barely making time to spend with her.

When it comes to her mother, Leah doesn't have as close of a relationship as she did with her father, but she still loves Anna, dearly. But when it comes to arguments between the family or just between Anna and Nicholas, Leah always takes her fathers side when there is an argument between him and Anna. Even though she loves both of them all the same, Nicholas has just seemed to treat her the way she wanted to be treated, unlike her mother. Don't get me wrong, Anna took care of Leah the best way she saw fit, but being a needy child, Leah always wanted more than Anna could give and that's where Nicholas steps in.


Puppeteer
Name: Caitlin
Age: sixteen
Experience: 3-4 years
How'd You Find Us?: found your advert on a different site.